JohDam Jaspers Treasure Eh
Sire:  AustCh Klaar Jasey Jay's Treasure (Imp Can)
Dam:  AustCh Belgenbeau Dumaji Wotnow RN
Whelped: 11 December 2016
Hips: AVA 1:1
Elbows: AVA 0:0
Complete Scissor Bite
Seizure Free
Murphy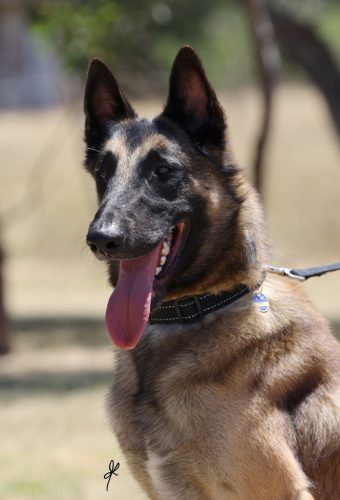 Murphy lives in Melbourne with a very dear friend of mine whom has done an excellent job of raising this
beautiful character of a Malinois!  I am very excited for his future!
Murphy has been fully DNA profiled.
He carries the Tervueren coat gene.
Murphy is available at stud to approved bitches.
Pedigree of 

JohDam Jaspers Treasure Eh

Parents
GrandParents
GreatGrandParents
SIRE  AustCh

Klaar Jasey Jay's Treasure (Imp Can

Klaar Hap Hazard
BISS CanCh Casarborg's Foxy Hermes
CanCh Klaar Perfect Treasure of Gildas

CanCh Klaar Coco Chanel du Gildas

Klaar Earl Logan
CanCh Klaar Perfect Treasure of Gildas
DAM 

AustCh 

Belgenbeau Dumaji WotNow RN

Allianse Lord OValkyrie



AustCh Corraddee Lord  Valhalla
Tiloup De Romanin

Belgenbeau BeZed Scarlett

Aisance Zodiaque
AustCh Bonvivant Alcheringa