Tervailles J J Jackpot
Sire:  AustCh Klaar Jasey Jay's Treasure (Imp Can)
Dam:  AustCh Belgenbeau Dumaji Wotnow RN
Whelped:  22 July 2013
Complete Scissor Bite
Seizure Free
Bred by Karen and Gordon Anderson
Jackpot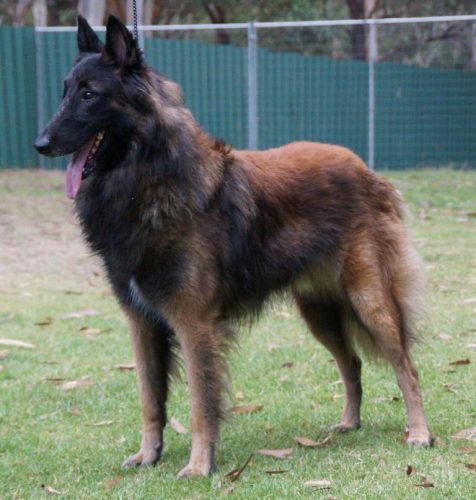 Wow!  What an awesome dog!
He is from two awesome Malinois and has taken all of the best characteristics
of his sire and dam and rolled it up into a bundle of gorgeous Tervueren fluff!!
We are extremely happy to have him in our home and he fits in beautifully.
What a character!! He lives his life to have fun! He loves retrieving and is the best cuddler ever!
Those gorgeous dark eyes, supurb small ears and great earset, and beautiful
headplanes make him very easy to look at!  A nice length of neck leads down into a
level topline, his rear and croup are textbook and he has a lovely front.
His natural pace is a beautiful balanced trot.
He has a complete scissor bite.
Pedigree of   

Tervailles J J Jackpot

Parents
GrandParents
GreatGrandParents

SIRE  AustCh

Klaar Jasey Jay's Treasure 

(Imp Can)


Klaar Hap Hazard

BISS CanCh Casarborg's Foxy Hermes

CanCh Klaar Perfect Treasure of Gildas

CanCh Klaar Coco Chanel du Gildas

Klaar Earl Logan

CanCh Klaar Perfect Treasure of Gildas

DAM 

AustCh 

Belgenbeau Dumaji WotNow  RN


Allianse Lord OValkyrie

AustCh

Corraddee Lord Valhalla


Tiloup de Romanin

Belgenbeau BeZed Scarlett

Aisance Zodiaque

AustCh 

Bonvivant Alcheringa