Tervailles Flirtacious
Sire:  Can/AustCh Klaar Altesse Master Ukon (Imp Can)
Dam:  AustCh Tervailles No No Nanette
30 May 2003 – 15 October 2008
Complete Scissor Bite
Seizure Free
Bred by Gordon Anderson
Crissy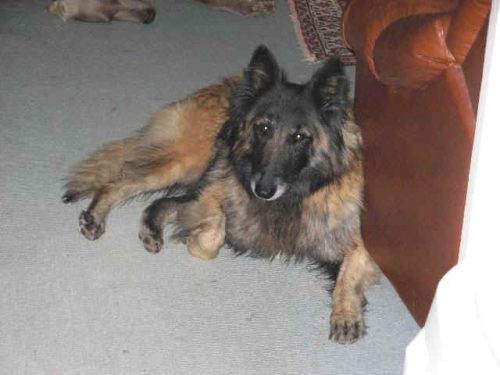 I find it very hard to come up with the words to write this.
After Ukon went missing I put out a notice that, if any of his progeny needed rehoming, we would be happy to take him/her in. We got word that one of his daughters needed a new life.  I drove several hours to pick her up. She was, then, four years old. When she came home it was obvious that she had not had much, if any, exposure to children at all. Unfortunately she had grown too accustomed to a "kennel" life and after well over a year of trying, we couldn't rehabilitate her to live happily with our family.
Rest in Peace "Missy Crissy"
She was biddable, gentle, and there was not a malicious bone in her body, she just had a bit of fear of the things she hadn't grown up with.
Crissy had ideal (IMHO) colouring for a bitch, rich red and excellent blackening. Nice ear set and better head planes than her father. She had great angles and movement, lovely dark eyes, better-than-average croup and a lovely long tail and great feet.
Pedigree of 

Tervailles Flirtacious

Parents
GrandParents
GreatGrandParents
SIRE  Can/AustCh Klaar Altesse Master Ukon (Imp Can)
s.r. Master Blaster de Condivicnum
RE Am/Can Ch Gourou du Crepuscule des Loups
s.r. Ch I Kiss You de Condivicnum
Can/Am/UKC Ch MBISS Klaar Altesse V Kouros
MultiCh Kouros Of The Two
CanCh Gabelle de la Douce Plaine
DAM  AustCh Tervailles No No Nanette
AustCh Lanaken Mystique Prince
Belg/AustCh Prince Van't Sparrebos
Imola de la Douce Plaine
AustCh Weedram T High Profile
AustCh Weedram T Wind Of Chance
Radnore Carrie Ann