CanCh Penikkas Klaar Perfect Apollos CD, HIC
Sire:  Am/Can Ch. Perfect of the Two CD COP-BAR
Dam: CanCh Bonheur's Zurich Gold CD
27 June 1994 – 13 September 1999 (Intestinal Lymphosarcoma)
Hips: OFA Good (2113G27M-T)
Complete Scissors Bite
Seizure Free
Bred by Penny Cowie
Corbie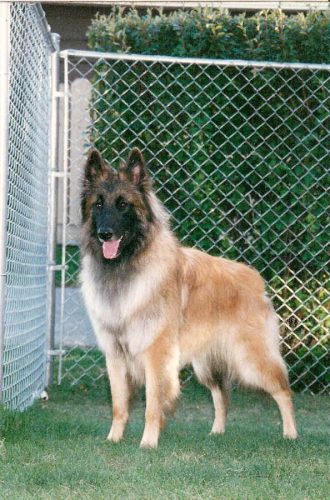 Corbie was such a special dog, my first puppy, my first purebred, my first show dog, my first obedience dog…  He was so eager to please, he wanted nothing more than to please.  He truly loved people and anyone who met him also fell in love with him.  He was the first puppy I ever raised. 
Corbie was a do-it-all dog, we tried just about anything to do with dogs – conformation (Champion title at a few days over a year old), obedience (CD title in his – and mine – first three trials), herding (achieving his Herding Instinct Certificate with great enthusiasm – not to mention volume), protection training (the trainer commented that Corbie looked like he'd been training for several months on his first time out), tracking, and agility.  His vocabulary of commands reached over 45 words in his all-too-short life.
He is sorely missed by us here at the Lynch household, and will never be forgotten.
Pedigree of 

CanCh Penikkas Klaar Perfect Apollos CD, HIC

Parents
GrandParents
GreatGrandParents
SIRE  

Am/Can Ch. Perfect Of The Two, CD, COP-BAR

BelCh Jonathan Of The Two
IntCh Django Du Spitant
Freya Van De Hoge Laer
Milady Of The Two
BelCh Kouros Of The Two
Juby Of The Two
DAM  CanCh Bonheur's Zurich Gold CD
AmCh Johan Van De Hoge Laer
Gert Van De Hoge Laer
Cita Van't Hof Melyn
Blue Ridge Rebecca Faith
Rodais Auctioneer
Blue Ridge Sugar Grove